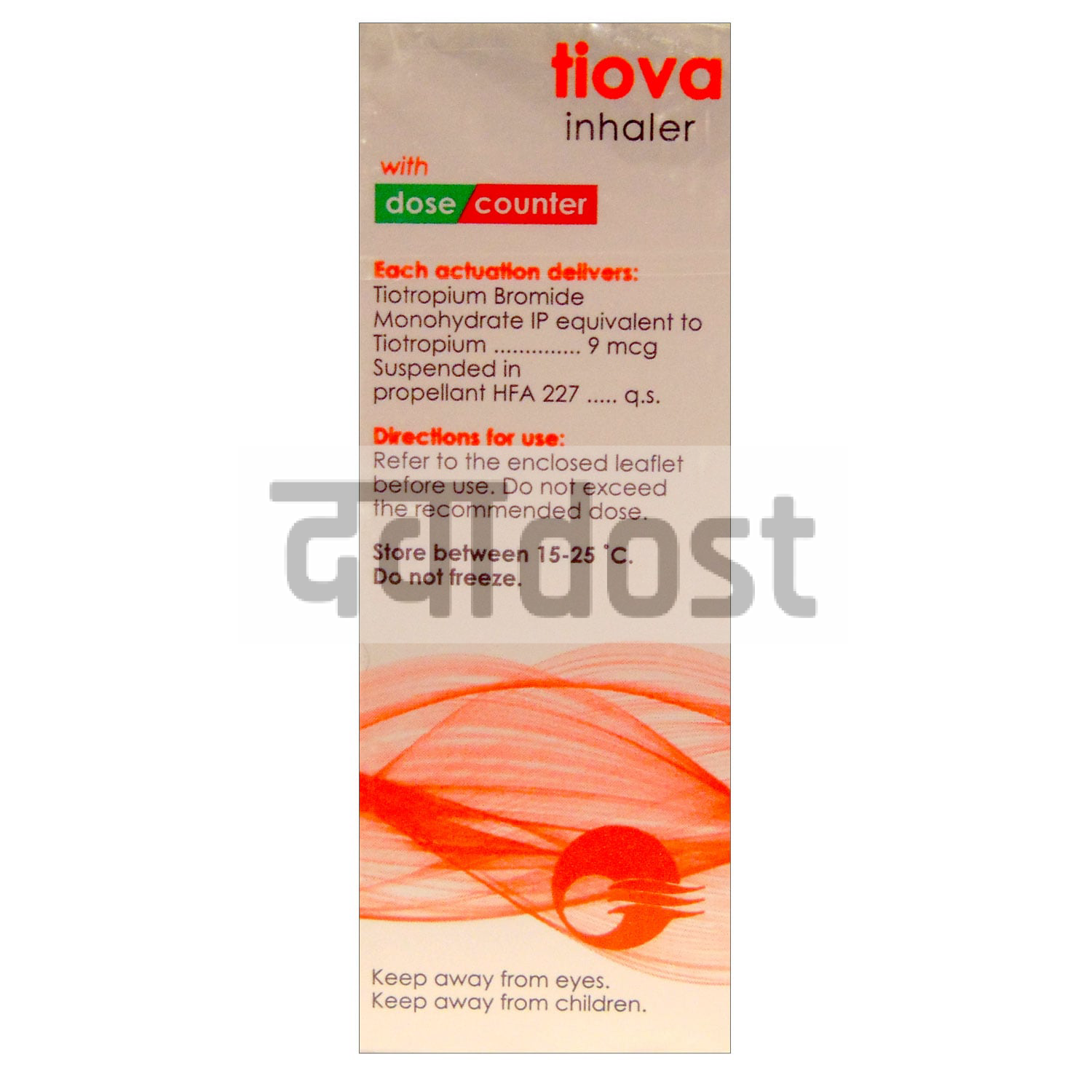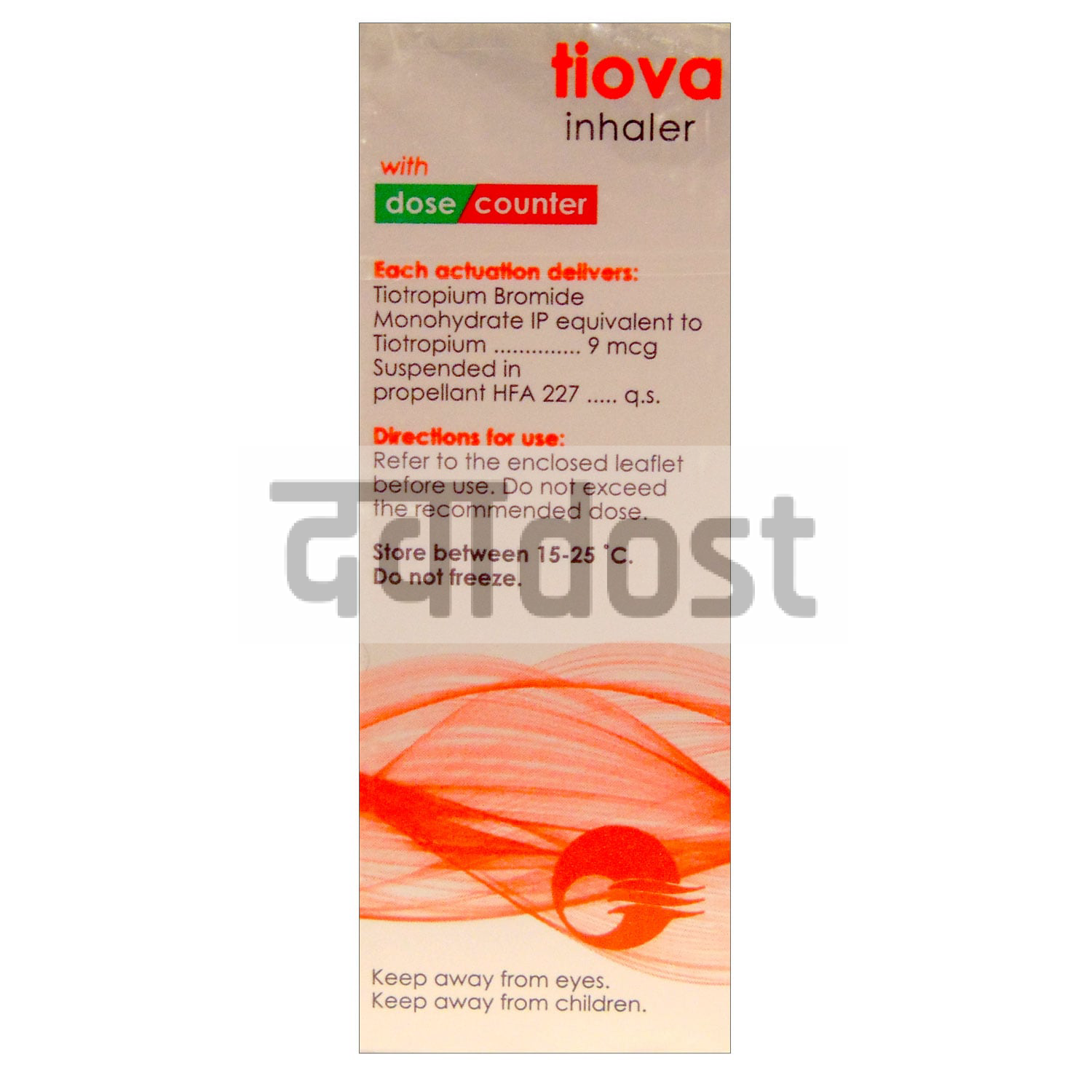 Tiova Inhaler 200mdi
medicineDetail.prescriptionRequired
packet of 200 MDI Inhaler
medicineDetail.manufacturer:
Cipla Ltd
medicineDetail.composition:
Tiotropium
searchResult.mrp:
₹599

₹510

Get 15% discount

Inclusive of all taxes

This offer price is valid on orders above ₹850.

medicineDetail.shippingServiceMsg
medicineDetail.introduction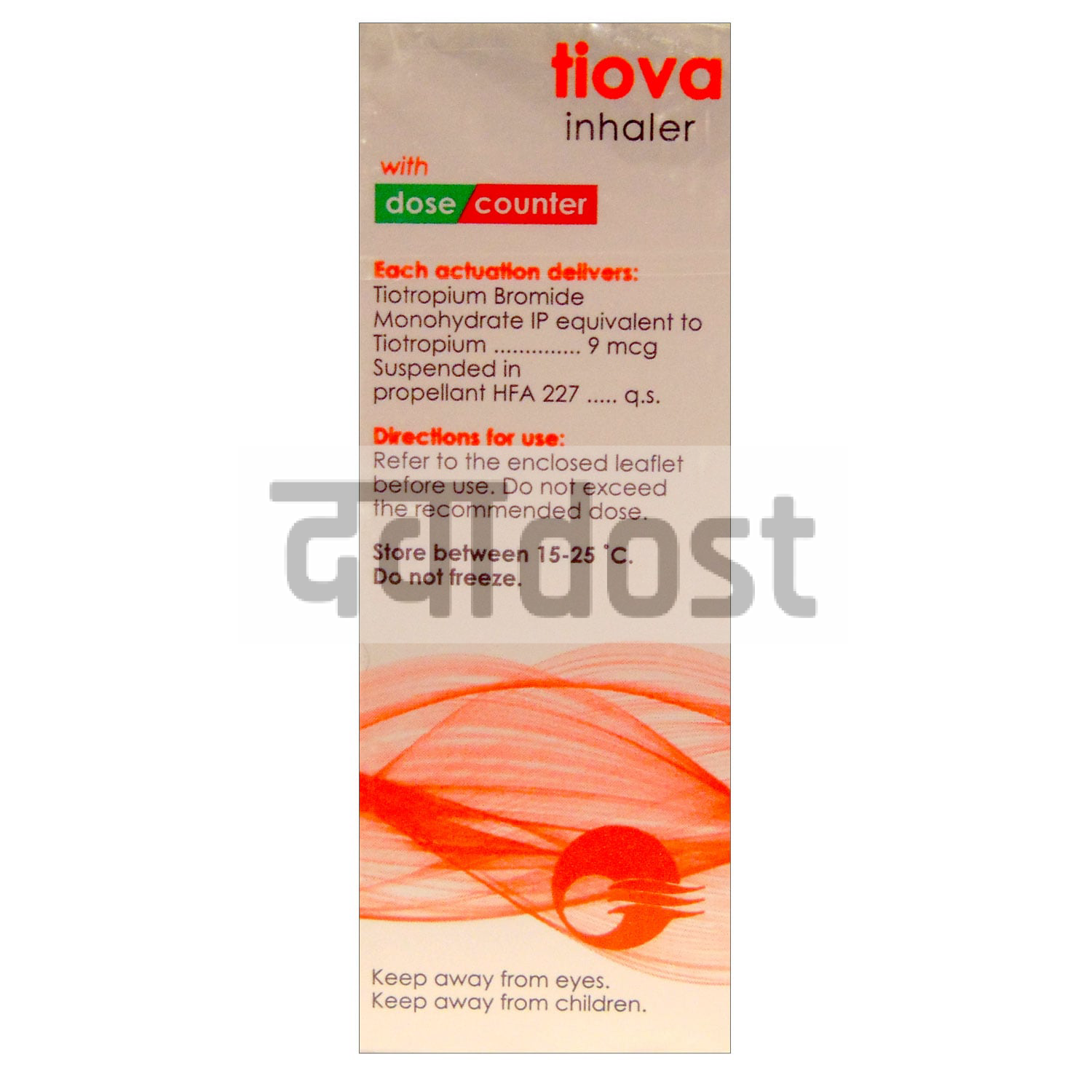 medicineDetail.introductionTo Tiova Inhaler 200mdi
Tiova Inhaler is an anticholinergic medicine. It is used in the treatment of chronic obstructive pulmonary disease and asthma. It relaxes the airway muscles and makes it easier to breathe. This helps relieve symptoms such as chest tightness, shortness of breath, wheezing, and coughing.

Tiova Inhaler is only for inhalational purpose, use it in the dose and duration as prescribed by your doctor. The first dose is given under medical supervision to prevent the side effects happen during first use. For better results, it is suggested to take it at the same time every day. The dose and how often you take it depends on what you are taking it for. Your doctor will decide how much you need to improve your symptoms. You should take this medicine for as long as it is prescribed for you. It does not prevent the already started breathing trouble or asthma attack, hence always carry your medical inhaler with you for an emergency.
medicineDetail.uses Tiova Inhaler 200mdi
Chronic obstructive pulmonary disease (COPD)
medicineDetail.benefits
Tiova Inhaler 200mdi
In Treatment of Chronic obstructive pulmonary disease (COPD)
medicineDetail.sideEffects
Tiova Inhaler 200mdi
medicineDetail.safetyAdvice Tiova Inhaler 200mdi
medicineDetail.adviceTxt
medicineDetail.highRisk
medicineDetail.moderateRisk
medicineDetail.safe
Alcohol
It is not known whether it is safe to consume alcohol with Tiova Inhaler. Please consult your doctor.
Pregnancy
Tiova Inhaler may be unsafe to use during pregnancy. Although there are limited studies in humans, animal studies have shown harmful effects on the developing baby. Your doctor will weigh the benefits and any potential risks before prescribing it to you. Please consult your doctor.
medicineDetail.readMore
Breast feeding
Tiova Inhaler is probably safe to use during breastfeeding. Limited human data suggests that the drug does not represent any significant risk to the baby. Monitor the baby for dry mouth, constipation, and urinary problems.
medicineDetail.readMore
Driving
No interaction found/established
Kidney
No interaction found/established
Liver
No interaction found/established